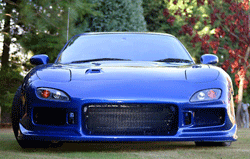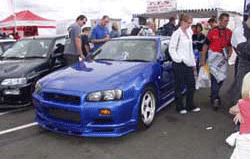 In Car PC Systems With Satellite Navigation.
Whether for business use or pleasure, our systems can be used for a multitude of tasks.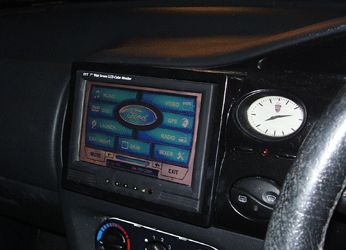 Built in CD Changer. The user can store and run all music from the in built hard drive, running mp3's and many other formats. Forget changing CD's for every change in mood, or having to skip through CD Changer menus, our In Car solution means you have access to ALL of your music at the touch of a button.

Built in DVD Player. As well as running music from the built in hard drive, you can also store and run DVD's in the same manner. Running on 7" Touch Screen Technology, users can watch movies whilst out, ideal for traveling salesmen needing a break, families who need to keep the kids happy, and as a graphic equaliser for sound enthusiasts.

GPS Satellite Navigation. Rather than paying at least £300 for a commercial navigation system, our products enable you to run GPS straight to the screen. Never lose your way again and arrive in half the time for a fraction of the price.

Work on the move. For people in need of a business system, imagine being able to use the above features, as well as everything you could on a laptop. With access to Microsoft Office or any other commercial suite (either user supplied or an optional add-on), users can access vital files and even update them via a USB pen drive. Having the FULL functionality of a PC System, the uses and possibilities are endless.

Mobile Hands Free Device. By running either your own mobile phone's supplied software, or by purchasing an all in one software solution, you can run your Bluetooth mobile in a completely hands free way. Imagine hearing your phone calls over your cars speakers, and being able to talk via an integrated microphone. You could even set the unit to alert you to incoming calls and messages via an on screen message. We can supply all of these parts (excluding phone) at a minimal added cost.

Other possibilities. There are many other possibilities with these systems, although the above are the main uses. Optional extras include Wireless Technology, allowing users to connect to home networks to refresh the Music, DVD or work database. Therefore there is no need to keep removing the system (although this is possible at all times). Rear mounted bumper cameras are also a hot choice, allowing users to find a cost effective reversing device. Never scrape or knock you car again! Imagination really is the only limit with these units, without the need to buy a £50,000 vehicle to get one.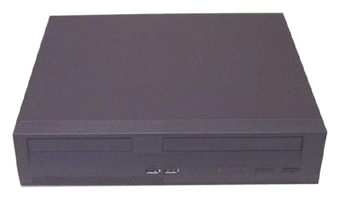 SPEC AND PRICE
Having told you what the system can do, now we are going to present you with some more detailed information. Firstly, at only 63.5mm (H) x 273mm (D) x 295mm (W), the unit is small enough to be placed in a multitude of locations. The usual home is in the car boot, although underneath the passenger seat is also a valid option.
Running a system spec powerful enough to run all of the above uses, as well as many more, thus system is neither sluggish nor tedious. In an instant, any of the features can be unlocked via the on screen menu system in an easily accessible and non time consuming manner.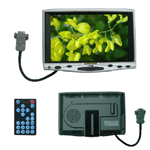 All output is displayed on a 7" Touch Screen, supplied with its own stand allowing attachment to a variety of surfaces. The pictures of the equipment installed show what can be achieved when the screen is mould into the car's dashboard. Although this is not a service that we are offering yet, it does show the kind of style that can be achieved.
On top of this the unit comes with a Power Regulator as standard, providing safe and efficient power at all times. This not only prevents the car battery from dying, but also instructs the unit to boot up and shutdown safely as the engine is started and stopped. This prevents and loss of work or information every time the car is switched off. Imagine getting into the car, switching on the ignition, and having the system started automatically within moments. Typical start-up times are sub 30 seconds, meaning you won't need to wait ages before setting off.
The internal spec of the unit and plenty for its uses, and includes a powerful Epia Via chipset motherboard with built in chip and fan cooling system. Standard hard drive space is 40GB which I have never been able to fill up, although this can be upgraded at the users wish at an additional cost. A fast access memory system provides 256mb of instant accessibility, allowing users to use more than one function at once (i.e. listen to music and use the Satellite Navigation). Additionally, a slim style CDRW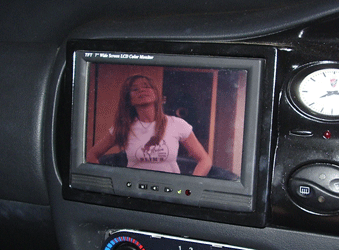 and DVD drive allows the loading of programs and data via either of these media types, and backups of company documents can be burnt onto disk. The 7" Touch Screen provides instant access to the system in an easy and concise manner, and looks beautiful when in use.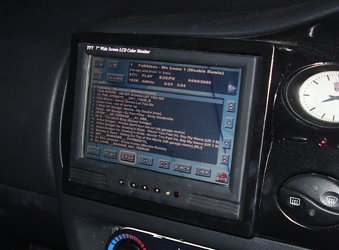 In addition to the hardware spec, a range of software can also be included. This includes Windows XP Home, Microsoft Office, GPS Navigation Software, etc.
PRICE LIST
While these multifunctional units have a vast range of uses, the real attraction has to be the price. A full media centre for the car comes well in excess of £1500, and that is for hardware limited to what it is made for. These systems can be supplied for far more competitive price, and can be adapted to user's individual needs. Let us know what you want done and we'll price it up! Listed below is a set of generic specs, including the pricing for the different levels of need.

SPEC 1: Base Unit and Monitor Only. This spec includes the unit detailed and pictured above, as well as the Touch Screen Monitor. Provided as a ready to install device, but does not come with any software. We can build these with a lead time of 7-10 working days for:
£POA

SPEC 2: Base Unit and Monitor with Windows XP and GPS Solution. This package includes all of the points in SPEC 1, but also comes with Windows XP Home installed and a fully working Satellite Navigation System and receiver. Again, with a lead time of 7-10 working days, we can provide these units for:
£POA
Email: info@coloursbodyshop.co.uk